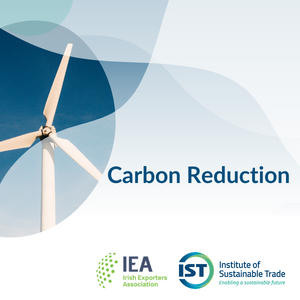 CATEGORY: Short Courses & Training
Carbon Reduction
Course Overview
Carbon Reduction is a practical and interactive course that trains participants on how to set ambitious yet realistic emissions reductions targets in their organisations and provides guidance on the best tools for adoption inhouse. The course provides a practical and actionable roadmap for achieving emissions targets reductions in line with corporate sustainability strategy and Ireland's ambitious targets as set out in the Climate Action Act 2021.
What will you learn?
The legislative landscape and the business case for reducing carbon emissions throughout the supply chain

How to integrate greenhouse emissions targets into organisational strategy, and 

how to set ambitious but achievable targets while ensuring these targets are met

The 'avoid, shift, and improve' strategies for reducing emissions

The practical steps for reducing supply chain emissions, including adopting alternative fuels and sustainable transport, near-sourcing of materials, alternative shipping routes, circular economy practices and sustainable procurement and investment practices

Learn of the practical tools available for companies to use inhouse to calculate and reduce their supply chain emissions
Who should attend?
Senior Management, Heads of Sustainability and Sustainability Officers, Supply Chain Managers, Logistics Managers, Operations Managers, any staff involved in carbon calculation and/or reporting